SPACE le Making OF numéros 18 http://t.co/NG7Wz7JAw0

September 25, 2013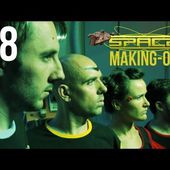 https://www.facebook.com/spacelaserie?fref=ts SPACE c'est Star Trek en Version Française. Une Web Série de Davy Mourier. Le défi : faire 10 épisodes en 1 mois et trouver un diffuseur pour le programme à la rentrée. Plus vous partager les makings of plus la série à de chance d'être diffusée.
SPACE est en cours de montage... c'est long mais un jour cette série va sortir. promis.